Back to Industry News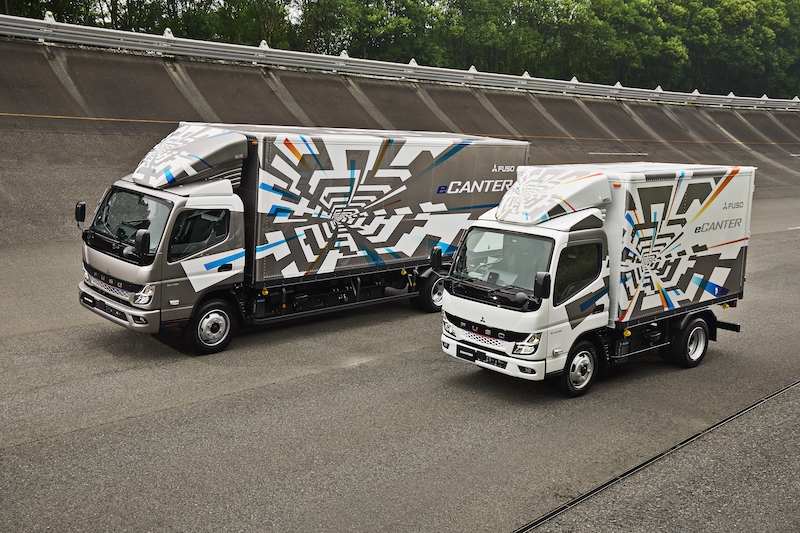 The world launch of the Next Generation eCanter – produced by Mitsubishi Fuso Truck and Bus Corporation – has taken place in Japan. Significantly, the new truck now comes with a modular battery concept, meaning a variety of ranges are up for grabs. CHARLEEN CLARKE, South Africa, reports
Operators can choose between one, two or three batteries. The eCanter with one battery with a rated capacity of 41 kWh can drive approximately 80 km on one charge. eCanters with two batteries can be driven for approximately 140 km, and those with three can complete around 200 km.
The other big news is a new eAxle, a new electric power take-off (PTO) unit, new safety features and a number of new interior and exterior features.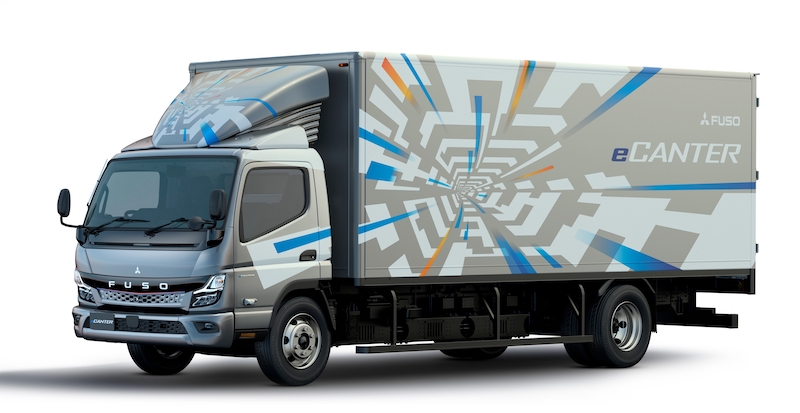 But first some background. Since its launch in 2017 as the first series-produced all-electric light-duty truck in Japan, eCanters operating around the world have covered over six million kilometres. Speaking at the world premiere, Karl Deppen, president and CEO of Mitsubishi Fuso Truck and Bus Corporation, pointed out that this meant that the truck has had ample time to reach maturity.
"Since we launched the truck, customers have been giving us invaluable feedback. One major request we heard again and again was the need for more versatility and more applications," he revealed. Accordingly, the Next Generation eCanter comes in multiple guises – with a range of tonnages, multiple wheelbases and various battery sizes. In fact, there are 28 variants for the Japanese market and approximately 80 variants for overseas markets.
Sales of the Next Generation eCanter in the Japanese market are scheduled for spring 2023. The new vehicle will be launched in additional overseas markets "in the coming years".
An eAxle has been adopted in the Next Generation eCanter, integrating the motor with the rear axle and allowing for a more compact drivetrain structure. In addition to the current 7.5-tonne GVM model, the new vehicle comes in weight classes ranging from 5 to 8 tonnes for Japanese customers, and starts from a 4 tonne truck for overseas models. The cab range has also been expanded; there's a wide cab (2,130mm) that can accommodate more cargo, in addition to the standard cab width (1,700mm) that brings more flexibility to routes on narrow roads. The variety of wheelbases has also been expanded, from 2,500 mm up to 4,750 mm.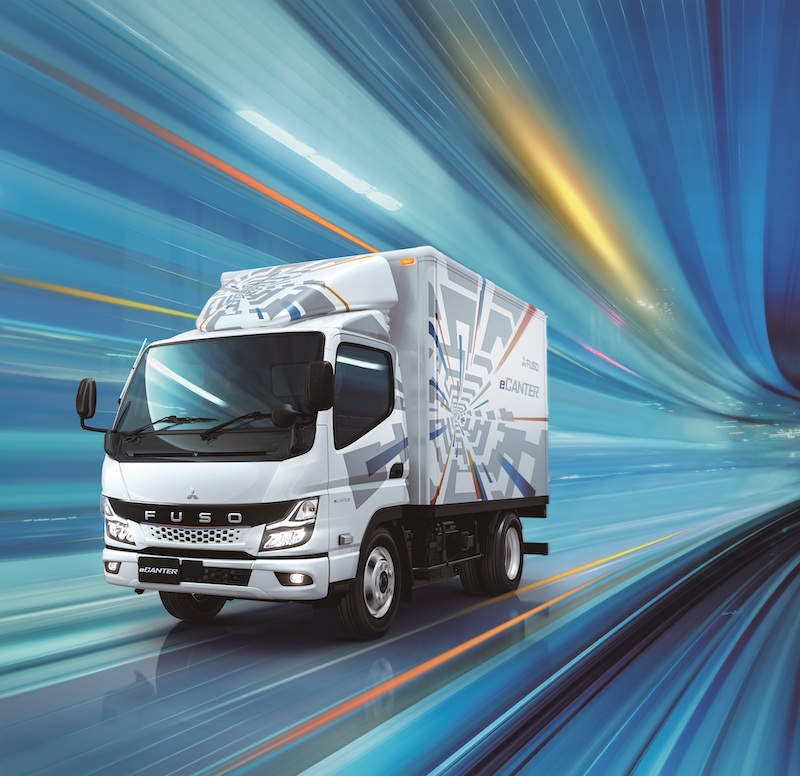 The fitment of a new electric PTO enables special-purpose applications for customers wishing to operate their eCanter with a tipper, rear crane, or climate-controlled van body, among various other options.
The regenerative braking function has been vastly improved, and it now can be controlled at four levels, greatly contributing to power savings and improving driveability. It is reportedly easy to drive the vehicle only using the accelerator (and never touching the brake pedal).
New safety features include Active Sideguard Assist (which reduces the risk of accidents on turns by monitoring the blind spot on the side of the truck and, when necessary, activates a collision mitigation brake system), Active Brake Assist 5 (an emergency braking system with improved spatial recognition and pedestrian detection), Active Attention Assist (which reduces fatigue-related accidents), Intelligent Headlight Control (automatically switches between high or low beams) and Traffic Sign Recognition (displays traffic signs recognised by the camera on the dashboard). These features won't necessarily be available in all markets; more information in this regard will become available at launch.
The most obvious new exterior features are the LED headlights and daytime running lights, while the stand-out interior features are a new 10-inch full LCD panel linked and steering wheel controls.
At the world premiere of the vehicle, Mitsubishi Fuso also promoted FUSO eMobility Solutions, which – for a monthly fee – provides customers with a range of support functions covering the entire electric truck ecosystem. This ranges from charger and installation services to battery life cycle management.
"As one of the world's largest commercial manufacturers, we can make a difference (when it comes to climate change). That is why we are so committed to supporting the transition to sustainable mobility. There is no reason to put off the transition to electric vehicles any longer," concluded Deppen.