Back to Jury News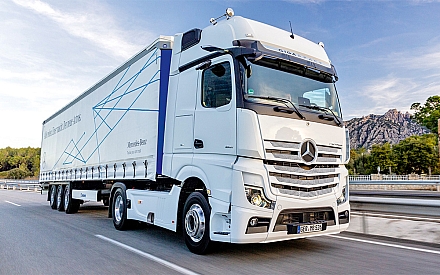 Mercedes-Benz's new Actros has been elected International Truck of the Year 2020 by a jury of 24 commercial vehicle editors and senior journalists, representing 24 major trucking magazines from throughout Europe.
The prestigious award was handed over to Prof. Uwe Baake, Head of Product Engineering Mercedes-Benz Trucks, during the press day of Solutrans, the biennial International Show for Road & Urban Transport Solutions in Lyon, France.
With a winning score of 121 votes, the German flagship fought off the strong challenge posed by Iveco's recently launched S-Way long-haul range and Volvo Trucks' fuel-efficient FH I-Save.
Based on the International Truck of the Year (IToY) rules, the annual award is presented to the truck introduced into the market in the previous 12 months which has made the greatest contribution to road transport efficiency. Several important criteria are considered, including technological innovation, comfort, safety, driveability, fuel economy, environmental footprint and Total Cost of Ownership (TCO).
Mercedes-Benz has built upon the technical strengths of its current range to deliver a new truck that introduces substantial improvements in crucial areas, such as partial automated driving, expanded cruise and transmission control systems, digital human-machine interface and several state-of-the art safety systems.
Among the latter, the jury praised the introduction of the MirrorCam system, which replaces the traditional exterior rear-view mirrors and effectively supports the driver in maneuvering, cornering or changing lanes. Moreover, the new solution not only improves all-around visibility but also aerodynamic efficiency.
During a recent extended test drive in southern Spain, the Truck of the Year jury members appreciated the new Active Drive Assist system which, in certain operational conditions, can take over the longitudinal and lateral guidance of the truck, thereby allowing partially automated driving in all speed ranges.
Finally, the IToY journalists praised the extended functions of the new Actros' Predictive Powertrain Control (PPC) system and the totally digital Multimedia Cockpit, which replaces the conventional instrument cluster. PPC, in particular, can now also be used on winding cross-country routes, saving fuel and reducing driver's workload.
Summing-up the jury vote, International Truck of the Year Chairman Gianenrico Griffini commented: "With the introduction of the new Actros, Mercedes-Benz has delivered a state-of the-art heavyduty truck that paves the way towards autonomous driving vehicles of the future".