Back to Jury News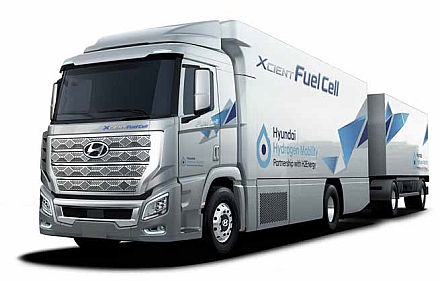 Hyundai has won the second-ever International Truck of the Year (IToY) Truck Innovation Award for its Hydrogen Mobility Project, based on its H2 XCient fuel-cell all-electric heavy-duty truck which promotes the introduction of a 'green' hydrogen-fuel road transport ecosystem in Switzerland, and other European countries in the future.
This much sought-after trophy has been awarded by the International Truck of the Year (IToY) jury, a group made up of 25 commercial vehicle editors and senior journalists, representing major trucking magazines from Europe and South Africa.
The latest award acknowledges the enormous technological changes and the energy transition that are evidenced within the field of commercial vehicles during the past few years. The Truck Innovation Award 2020 was handed over to Rolf Huber, Chairman of Hyundai Hydrogen Mobility and to Jihan Ryu, Vice President Commercial Vehicle Engineering Design Group of Hyundai Motor Company, during the press day of Solutrans, the biennial International Show for Road & Urban Transport Solutions in Lyon, France.
With a winning score of 80 votes, Hyundai's fuel cell truck-based mobility project fought off competition from the Nikola Hydrogen truck range, Freightliner's eCascadia, Volvo Trucks' Vera and Scania's AXL autonomous driving vehicles and Renault Trucks' Optifuel Lab 3.
The International Truck of the Year jury praised the comprehensive approach to clean mobility in the commercial vehicle sector, based on the partnership of several key players in supplying ecofriendly heavy-duty trucks. The partnership includes vehicle-provider Hyundai Motor Company together with H2 Energy, Linde and Alpiq for green energy solutions for hydrogen production and distribution, together with logistics and retail and trade partners in Switzerland.
The Hyundai H2 XCient Fuel Cell truck (FECV) that has been developed according to European regulations features a new 190 kW hydrogen fuel cell system with two 95 kW fuel cell stacks connected in parallel. It has an operational range of around 400km, thanks to seven fuel-tanks, each with a storage capacity of almost 35 kg of hydrogen at a pressure of 350 bar.
According to IToY rules a Truck Innovation Award nominee must be an advanced-technology vehicle with a gross vehicle weight over 3.5-tonnes either fitted with an alternative driveline (e.g. hybrid, hybrid range-extender, or all-electric) or have an alternative fuel-system (such as LNG/ CNG/ hydrogen/or fuel-cells). Otherwise, it must feature specific high-tech solutions with regard to connectivity (whether semi or fully-autonomous driving systems) a 'platooning' capability, or advanced support services such as remote diagnostics.