Back to Jury News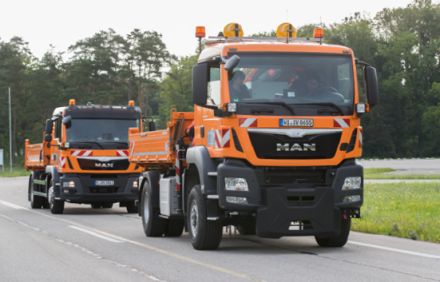 MAN Truck & Bus has won the inaugural Truck Innovation Award for 2019 in recognition of its aFAS Level 4 automated driverless safety truck. This sought-after trophy is being awarded by the International Truck of the Year (IToY) jury, a group made up of commercial vehicle editors and senior journalists, representing major trucking magazines from Europe and South Africa.
The new award acknowledges the enormous technological change that is evidenced within the field of commercial vehicles. The Truck Innovation Award was handed over to Joachim Drees, Chief Executive Officer of MAN Truck & Bus, during the press day of the IAA Commercial Vehicle Show in Hanover, Germany.
The aFAS – this acronym stands for "automated driverless safety vehicle for jobs on Federal motorways" - is a highly innovative safety solution developed by MAN over a period of four years, with the support of the German Ministry for Economic Affairs and Energy and with the involvement of technical institutions and several key component supplier-partners.
With a winning score of 93 votes, MAN's aFAS fought off competition from the Mercedes-Benz eActros, Volvo Trucks' FL/FE electric trucks, Renault Trucks' second-generation electric trucks, DAF's Ecochamps and ZF's Innovation Truck.
A Truck Innovation Award nominee must be an advanced-technology vehicle, with a gross vehicle weight over 3,5 t. It should either feature an alternative driveline – hybrid, hybrid range-extender, allelectric – or have an alternative fuel-system such as LNG/CNG/ hydrogen/fuel cells. Alternatively, it must feature specific high-tech solutions when it comes to connectivity – whether semi- or fully autonomous driving systems, a platooning capability, or advanced support services such as remote diagnostics. During a recent exclusive press event in Linz , Austria, the IToY jury members were given an in-depth overview of the aFAS project. Furthermore, the jury had the opportunity to assess the Level 4 unmanned protective truck. The highly innovative vehicle – a MAN TGM 18.340 – automatically follows another truck engaged in maintenance works on highways.
The IToY journalists were impressed to discover that the aFAS has already been tested, without any accident, on public roads covering more than 4 000 km. Jury members also commented favourably on the fact that the aFAS can save lives, because mobile construction sites on motorways pose a high risk to site personnel, since serious rear-end collisions are common. Furthermore, they gave the thumbs-up to the ease of operation, high level of active safety and extensive use of series components. In addition, they remarked on the fact that this is the first Level 4 driverless vehicle on public roads in Europe.
Summing up the jury vote, International Truck of the Year chairman Gianenrico Griffini commented: "With the aFAS project, MAN has not only delivered an effective solution to protect mobile construction sites, but it has also gained important insight for the future technical development of fully automated driving vehicles."