Back to Jury News
DAF's new XF/CF truck range has been elected International Truck of the Year for 2018 by a jury of 23 commercial vehicle editors and senior journalists, representing 23 major trucking magazines from throughout Europe.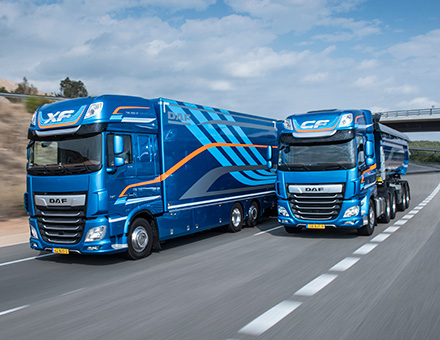 The prestigious award was handed over to Preston Feight, President of DAF Trucks, during the press day of the Solutrans Commercial Vehicle Show in Lyon, France.
With a winning score of 104 votes, in a neck-to-neck competition the new Dutch heavy-duty truck range fought off the strong challenge posed by Iveco's Stralis NP long-haul 460 HP natural-gas engine model which was second, and Scania's XT construction range, which finished in third place.
In accordance with the International Truck of the Year (ITOY) rules, the annual award is presented to the individual vehicle or model range introduced into the market in the previous 12 months which has made the greatest contribution to road transport efficiency, based on several important criteria including technological innovation, driver comfort, road safety, driveability, fuel economy, environmental 'footprint', and Total Cost of Ownership (TCO).
The new XF/CF innovative drivelines, based on optimized MX-11 and MX-13 in-line six engines, well integrated with the latest ZF Traxon 12-speed automated gearbox and new DAF rear-axles, deliver improved driveability, greater fuel efficiency and seamless gear-changing characteristics.
The Truck of the Year jury members appreciated the new XF/CF's energy efficiency features, which include improved combustion, a reduction in internal engine friction losses, engine down-speeding, intelligent auxiliaries, driveline component integration, different gear-shifting strategies, enhanced predictive features running on a new electronic architecture as well as weight reductions in selected components such as the compact after treatment system.
In particular, during a recent extended test drive in Belgium and the Netherlands, the IToY jury members praised the advanced characteristics of the latest XF/CF drivelines, which allow for longer fuel-saving 'Eco-roll' periods, due to the increased integration of the engine and automated-gearbox equipped with the latest GPS-based Predictive Cruise Control function.
Summing-up the jury vote, International Truck of the Year Chairman Gianenrico Griffini commented: "With the introduction of XF/CF series DAF has delivered a heavy-duty truck range that sets a new standard in terms of driveline energy-efficiency and overall performance".
Preston Feight, President of DAF Trucks commented: "The honors belong to every member of the DAF organization. We all worked hard to make the best trucks on the market even better. The result are the New CF & XF – representing Pure Excellence. It is fantastic that all these efforts are rewarded in such a great way. In addition, winning the 'International Truck of the Year 2018' award is a recognition for our suppliers and dealers, and most importantly, it is a fantastic tribute to all those customers who have chosen or will choose the DAF New CF or XF. The jury commented that the trucks are leading the way in transport efficiency. What to say more?"