Back to Jury News
Scania's new truck range has been elected International Truck of the Year for 2017 by a jury of 25 commercial vehicle editors and senior journalists, representing 25 major trucking magazines from throughout Europe. The prestigious award was handed over to Henrik Henriksson, President and CEO of Scania, during the press day of the IAA Commercial Vehicle Show in Hanover, Germany.
With a winning score of 149 votes, the new Swedish truck range fought off the challenge posed by Iveco's recently-launched Stralis XP-NP long-haul range and Mercedes-Benz's Actros heavy-duty truck with the latest generation OM 471 engine.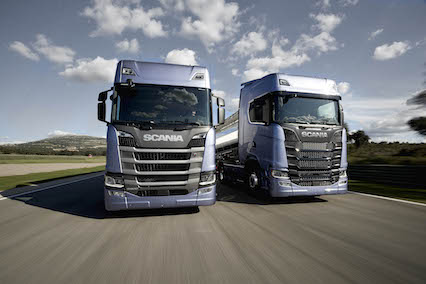 Truck of the year: Scania
Based on the International Truck of the Year (ITOY) rules, the annual award is presented to the truck introduced into the market in the previous 12 months which has made the greatest contribution to road transport efficiency, based on several important criteria including technological innovation, comfort, safety, driveability, fuel economy, environmental 'footprint' and Total Operation Economy (TOE).
Building on the technical strengths and features of its current range, Scania has delivered a new truck generation that introduces substantial improvemets in crucial areas such as cab aerodynamics, comfort and ergonomics, vehicle driveability, driveline performance, safety and customer-optimized services.
Among the latest powertrain innovations, the Truck of the Year journalists praised the shorter gearchanging time of the automated Opticruise gearboxes - the result of a new layshaft brake - and the performance of the latest in-line six-cylinder 13-litre SCR-only 500hp engine that offers enhanced fuel efficiency across a wide range of on-road applications. Another key feature of the new range, which not only contributes to a reduced CO² footprint but also furthers the cause of sustainable transport, is the fact that all Scania Euro 6 engines in the new generation can run on HVO (Hydro treated Vegetable Oil) with the potential to reduce CO² emissions with up to 90 percent.
Scania's new cab also delivers improved driver vision thanks to a revised driving position - which places the driver closer to the windscreen - a larger glass surface, a lower instrument panel and optimised, non-intrusive A-pillars. Moreover, the top-of-the-range 'S' cab, with its flat floor, offers a truly car-like driving experience, as the Truck of the Year journalists noted during a recent field test in Sweden.
Finally, the IToY jury members appreciated the new range's tailor-made fleet-management and service contracts, based on the experience gained with two hundred thousand connected trucks in operation in Europe.
Summing up the jury vote, International Truck of the Year Chairman Gianenrico Griffini commented: "With its new range, Scania has delivered a truck that represents a real 'state-of-the art' offering in the heavy duty segment, capable of satisfying not only today's but also tomorrow's transport needs."